This course opens soon!

Are you trying to build a profitable blog but don't have the time?
Let's be honest.
There are a lot of blogging courses out there but some of the strategies are geared towards a certain niche or filled with outdated ideas.
This is not one of those courses.
I started Frugal on the Prairie in March of 2015. Less than a year later, I was making a full-time income from home. Oh, and did I mention my life is ridiculously busy like yours? If I can do it, then so can you.

This course is about building a blogging business (not a hobby) with all of the latest modern strategies bloggers are using today.
I'm going to show you all the ways I built the framework for my blogging business on the tight, chaotic schedule of a working mama.
This course is for you if:
You already know that creating a money-making blog takes a lot of hard work, but you just don't know exactly what to work on
You want to know what strategies actually work when using a blog to sell products or services
You want to know what you can do on a tight schedule to make the most of your efforts
You don't want to waste time on strategies that won't build and grow your business
This course is about creating a solid business plan and using your blog to put your strategies to work!
---
What do you learn in Blogging to Win?
MODULE #1: Creating your profitable blogging business
Discover your profitable business idea
Create your business plans and goals
MODULE #2: Launching your blog
Setup your domain and hosting
Learn how to create your brand identity on a budget
Choose the tech tools you need
Learn how to optimize your site layout
MODULE #3: Establishing your online presence
Discover the best blogging method and learn how to write a stellar post
Find free/affordable options for your photography and graphics
Learn why you should connect with other bloggers
Learn how to initiate a mutually beneficial collaboration with other bloggers
Learn how to guest post the modern way
MODULE #4: Creating your email marketing strategy
Choose your email provider
Discover how to create an effective email marketing plan
Set up your subscriber forms and create a content upgrade
Discover the highest-converting content upgrades and how to use them to your advantage
Discover how to engage and connect with your subscribers through different types of emails
MODULE #5: Validate your entrepreneurial idea
Learn how to validate your entrepreneurial idea with no subscribers
Learn how to validate your entrepreneurial idea with subscribers
MODULE #6: Growing your audience
Discover different ways to grow your audience
Learn how to maximize your use of social media
Learn how to maximize your use of SEO
Create an effective social media plan
Learn how to save time by scheduling posts
MODULE #7: Launching your entrepreneurial idea
Discover the fastest way to build your list and connect with your audience
Create a detailed launch plan for your product/business
How to write successful pitches
Learn how to impress your potential clients
MODULE #8: Other forms of monetization
Discover the best ad networks on the market
Learn how to use affiliate links without being "salesy"
Discover when you should use sponsored posts and when you shouldn't
Learn how to reach out to brands and effectively promote them
---
I don't just tell you why, I show you how!

Blogging to Win was created with all of you serious bloggers-on-a-mission in mind who want to know why they should do something and exactly how they can do it .
I made a lot of mistakes when I started blogging. I spent hours on link parties and hustled every day to make sure I posted at least 3 times/week, every week.
And you know what? There were better things I could've done with my time to grow my blogging business.
I quickly realized that my vision of a successful blog was not necessarily what everyone else was envisioning. I wanted to create a content-rich community and sell products to help grow my business. I wasn't interested in wasting precious time on social media. (Let's get real- our kids are only going to nap for so long and our lunch break is only 30 minutes.)
This course is for you if you're a new (or relatively new) blogger and are overwhelmed by the massive amounts of advice you find plastered on the internet. You want a step-by-step guide of the absolutely necessary actions you should be taking to create a profitable blogging business.
Blogging to Win can be applied to any niche (parenting, personal finance, making money at home, fashion, food, crafts, etc.) as long as you are prepared to create the foundation for a blogging business. This means you have a product or service you want to offer (or eventually want to offer!) and want to make money in more ways than just ad revenue or affiliate income.
---
What do you get if you buy the Intermediate Package?
It includes 8 self-paced lessons, each covering the basics of setting up a blogging business. Each lesson also includes its own Exercise page to ensure you're ready to move onto the next module.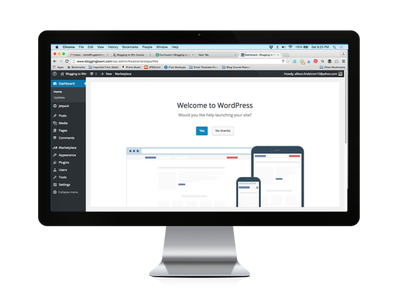 You'll also receive multiple video tutorials for each of the lessons. I literally record my screen and walk you through the tech side of blogging, step-by-step so you don't get lost!
---
Want a more detailed course? The Advanced Package is made for you!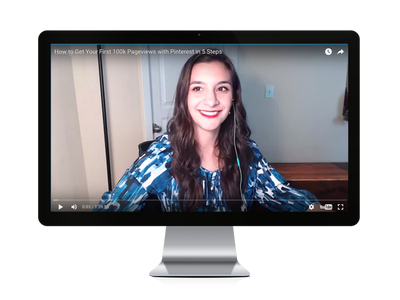 The Advanced Package also includes access to the private Blogging to Win Facebook group so you can collaborate and bond with other champion bloggers, just like you.
You can also schedule a 30 minute one-on-one coaching session with Allison to get personal feedback on your unique blogging ideas...or just to hear how funny she is.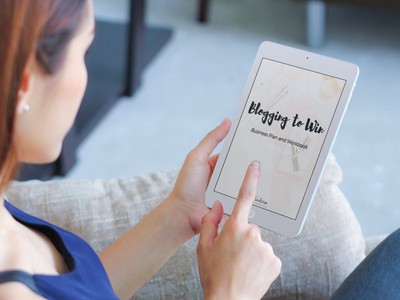 To wrap up this package, you'll also gain instant access to the Blogging to Win Workbook and all previous blogging-related webinar recordings and interviews, including:
How to Get Your First 100k Pageviews Using Pinterest
How to Get Your First 1k Subscribers Using Pinterest and ConvertKit
How to Setup a Resource Library for $0
Click here to check out the Advanced Package! Want to just get your feet wet with the Intermediate Package? No problem! You can always start here and upgrade later on by emailing hello@frugalontheprairie.com.